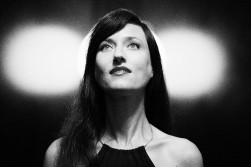 Curriculum Vitae
Vesna Petresin (born in Ljubljana, works and lives in Berlin and London) is a transdisciplinary artist and thinker. She has a practice as a time-architect, composing and performing with sound, light, rhythm, space, movement, text and code.  
Currently a Visiting Fellow with Goldsmiths College, University of London, and an Artist-in-Residence with ZKM Center for Art and Media, Vesna earned her PhD for research on temporal composition in architecture, art and music. In 2004 she co-founded the London-based art collective and think-tank Rubedo, investigating themes and techniques in aesthetics, complex geometry, optics and acoustics, through performance, installation and artefact.  
Vesna's practice explores embodiment, transformation, manipulation of time and movement, synaesthesia in syncretic art, alongside the barriers between the intimate and the public sphere. She aims at taking art out of the 'white cube' to an immersive experience and to explore sound in relation to space, time and user interaction. Using her voice and movement meditation, she constructs a trichotomy of structures: sound, image and light, exploring the concept of time in relation to body, movement, space and emotions.  
She has exhibited and delivered performances, immersive experiences, multimedia installations and artefacts to international festivals and venues at Tate Modern, ArtBasel Miami, Royal Festival Hall, Royal Academy of Arts, Venice Biennale, Cannes International Film Festival, Institute of Contemporary Arts London, CERN, Sydney Opera House, Vienna Secession, World Architecture Festival and Beijing Architecture Biennale.  
Vesna also acted as Industry Advisor to Goldsmiths College [Topology Research Unit], Bath University, and received industry and arts grants (British Council, UK Govt. Department of Innovation, Business and Skills, Arts Council, Crafts Council), as well as patents in engineering. She has been a lecturer and public speaker (UCL, Goldsmiths, Central Saint Martins, Architectural Association, ZKM among others), published internationally (Thames & Hudson, Springer, John Wiley & Academy) and has been a Fellow of the Royal Society of Arts.